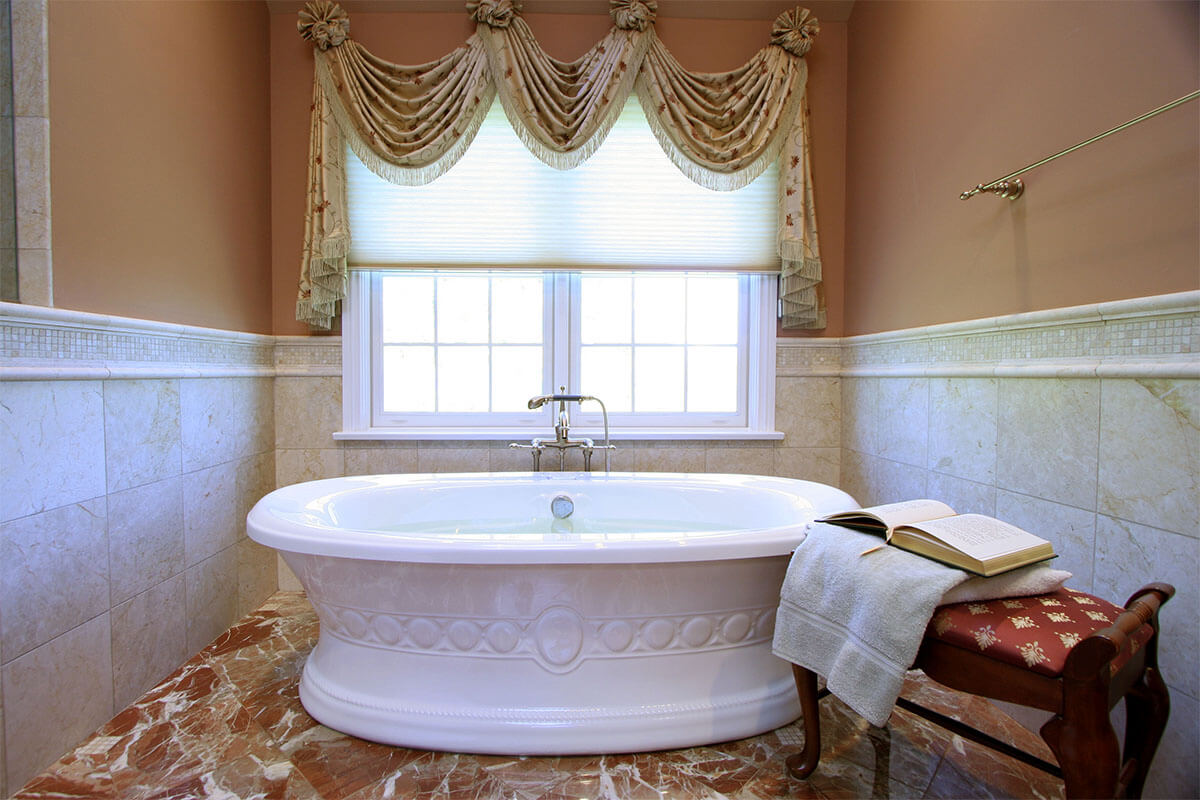 Bathroom Remodeling
---
A bathroom remodel can revamp your living space and bring fresh energy into your home. Not only can it change the design motif of your bathroom, but it also gives you the opportunity to update your fixtures for energy efficiency. Here at Stoneridge Builders, we have experience with every type of bathroom remodel, from historical restorations to the most modern of designs. Whether you want to update your bathroom for your own enjoyment or to improve the value of your home for an upcoming sale, our team will work with your vision to create a space you can feel proud of.
---
Fixing Old Features: Take Care of Bathroom Damage During a Remodel
---
Everything falls apart and needs replacement over a long enough time frame, and since bathrooms are regularly subjected to foot traffic, humidity, and other damaging elements, they tend to wear out faster than other parts of the home. A bathroom remodel can be an excellent time to fix cracked tiles, leaking pipes, or other problems that could cause issues in the future. Our three-step remodeling process begins with a discovery phase, during which we will examine your space and let you know how any existing damage might affect your remodeling job.
Increasing Home Value: A New Bathroom is Attractive to Buyers
---
A remodeled bathroom always offers a good return on investment (ROI), at least if you consider enjoying the space to be an adequate return. You use your bathroom throughout the day, so it's important that you find the space attractive, comforting, and easy to use. Bathroom remodeling can offer a financial ROI as well. By replacing your bath, toilet, and sink, you can add up to $3,000 in home value.
---
Remodeling Smart: A Design and Construction Process that Makes Sense
---
We view every bathroom remodeling job as the opportunity to create something we're proud of. The process begins with a visit to your home, during which we will discuss your plans for your new bathroom and look at what we're working with. Next, we take on the design and planning phase. We consider every factor that could affect your remodeling job, from local regulations to energy efficiency. We handle all the research, permits, and inspections, so you can focus on taking care of your everyday life.
The final phase is construction. We prepare everything in advance, so when we're ready to build, we can do so without any roadblocks getting in the way. Using our years of experience in remodeling and design, we aim to turn your home into the sanctuary you've always wanted.
---
Enjoying Your New Bathroom: A Cherished Space
---
How will a new bathroom design inspire you? A little change can go a long way. With your new design, you may feel more confident entertaining guests. You might find more enjoyment in taking baths and performing other self-care rituals. You could love your new bathroom so much that you feel inspired to remodel your entire house! If so, the team at Stoneridge Builders is ready to help. Completing a bathroom remodel with us means joining the Stoneridge family, so whether you have questions about your new bathroom or want to schedule more remodeling jobs in the future, we'll be here for you long after construction is complete.
Stoneridge Builders serves clients in northern Illinois, Chicagoland, and southern Wisconsin. If you're interested in making changes to your bathroom but aren't sure where to begin, please contact us now at 815-444-1239. You can also contact us via our web form. Once we get started, we can help you decide what changes might improve your living space.