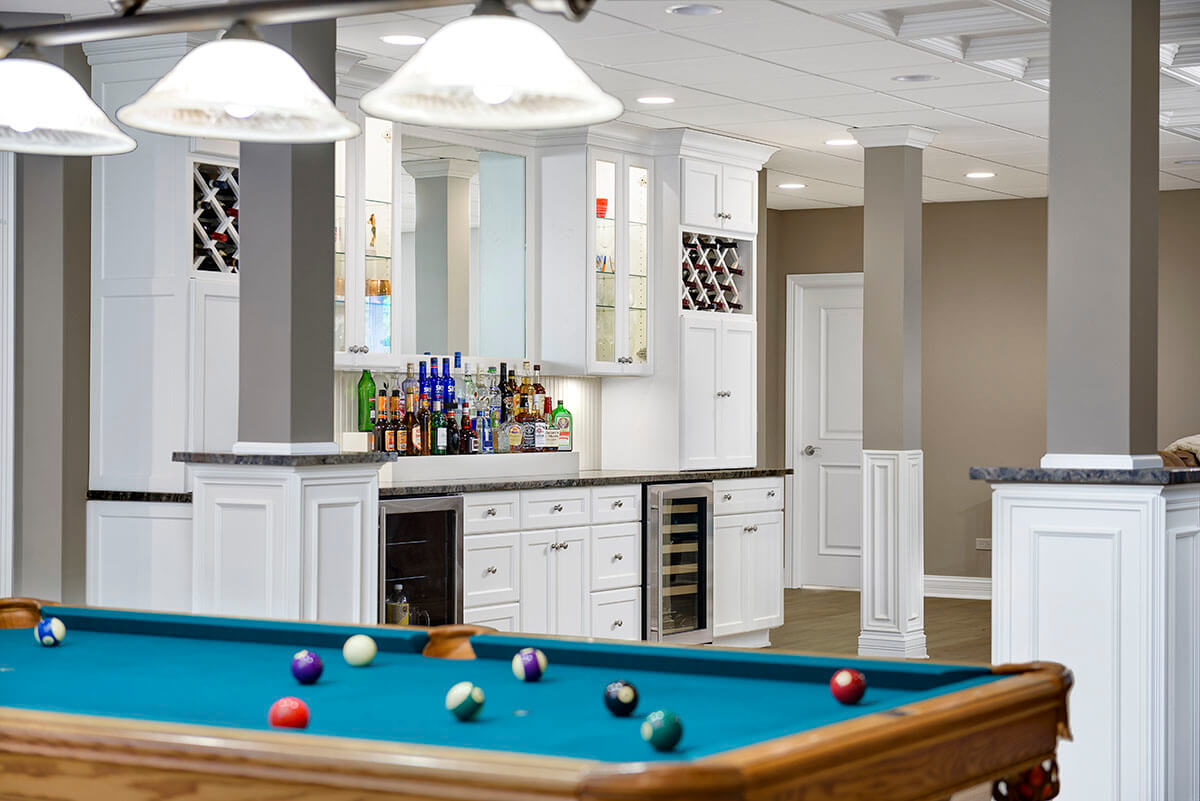 Basement Remodeling
---
A basement renovation can mean anything from turning an unfinished basement into a living space to revamping an already updated basement to make it even better. Stoneridge Builders is prepared to help you create the basement of your dreams by combining your ultimate vision with the physical realities that exist within the space you're working with and the jurisdiction where you live.
---
The Benefits of a Basement Remodel: Improved Use of Space
---
If you'll be starting work on a basic basement, you'll be amazed at how much a remodeling job can improve the look and feel of your home. Along with creating designs that are comforting and aesthetically pleasing, you can also revamp your downstairs space by adding rooms. Turning a dusty, dark basement into a bright living space is an excellent way to provide room for a growing family, increase income by renting to a tenant, or simply add guest rooms, a game room, a home theater, a gym, or anything else you can imagine. Don't assume that you'll have to miss out on the storage space, either.
With our smart designs, we can figure out how to add both storage and living space to your basement.
Finishing a Basement: Added Value to Your Home
---
Finishing a basement turns a storage space into a living space, which can be very valuable. The return on investment (ROI) isn't quite as high for a basement as it is for a kitchen or bathroom overhaul, but you can still get a lot of bang for your buck. Your efforts will continue to pay off in the long run as you enjoy the increased space in your home. If you ever want to sell, the improvements you made could make your home more desirable to buyers. Unlike a ground-level or upstairs addition, a basement remodeling job is a relatively affordable way to maximize the value you get from your home.
---
The Three-stage Process for Basement Renovation: A Careful Approach
---
The team at Stoneridge Builders has seen it all, and we've learned that every project must be approached carefully and strategically to create the best results. That's why we use a three-stage process for all remodeling and construction projects.
Our stages include:
Discovery, during which we visit your home, learn your vision, and see what we're working with.
Design, during which we create a plan to build your dream basement while adhering to all local regulations, environmental factors, and physical limitations.
Construction, during which we utilize our team's excellent work ethic and dedication to see your project through to completion.
During each stage of the process, we remain in communication with our clients. Once your job is completed, that communication doesn't have to end. We're here for you whenever you need it, so if you have a problem with any aspect of the construction of your new basement or any of its features, please don't hesitate to contact us.
Are you ready to start your basement remodeling project in northern Illinois, Chicagoland, or southern Wisconsin? Stoneridge Builders is ready to help. We've completed a variety of successful projects, from renovations with green living in mind to remodels designed to create the utmost in style and sophistication. Give us a call today at 815-444-1239, or fill out our online form. We'll make your appointment and begin the discovery phase of the project right away.